Since 1983, Community Music School of Springfield has been a place to access equitable and inclusive music education that empowers individuals, inspires creative passion, and promotes well-being in our greater community. The connections that our students have with their CMSS faculty harness the beauty and potential of the special relationship between a musical mentor and their student. At the core of CMSS teachers, and what makes CMSS such a special place, has always been an unspoken culture that uplifts and centers these connections between student, family, and faculty.
We are happy to announce that in 2021, in collaboration with Lorna Jane Norris Consulting, CMSS faculty, families, and alumni launched the Effective Teaching Initiative to identify the common values that exist within CMSS teaching artistry. What came to fruition, after nearly a year of collaboration, was the Unified Teaching Values which are an embodiment of the values that unify the CMSS community of educators and performers.
A lesson with each and every one of CMSS faculty looks different in its own beautiful way. The CMSS Unified Teaching Values allow us to name what it means to be a faculty member, what future students can expect from all CMSS faculty, and what past and present students have loved since 1983.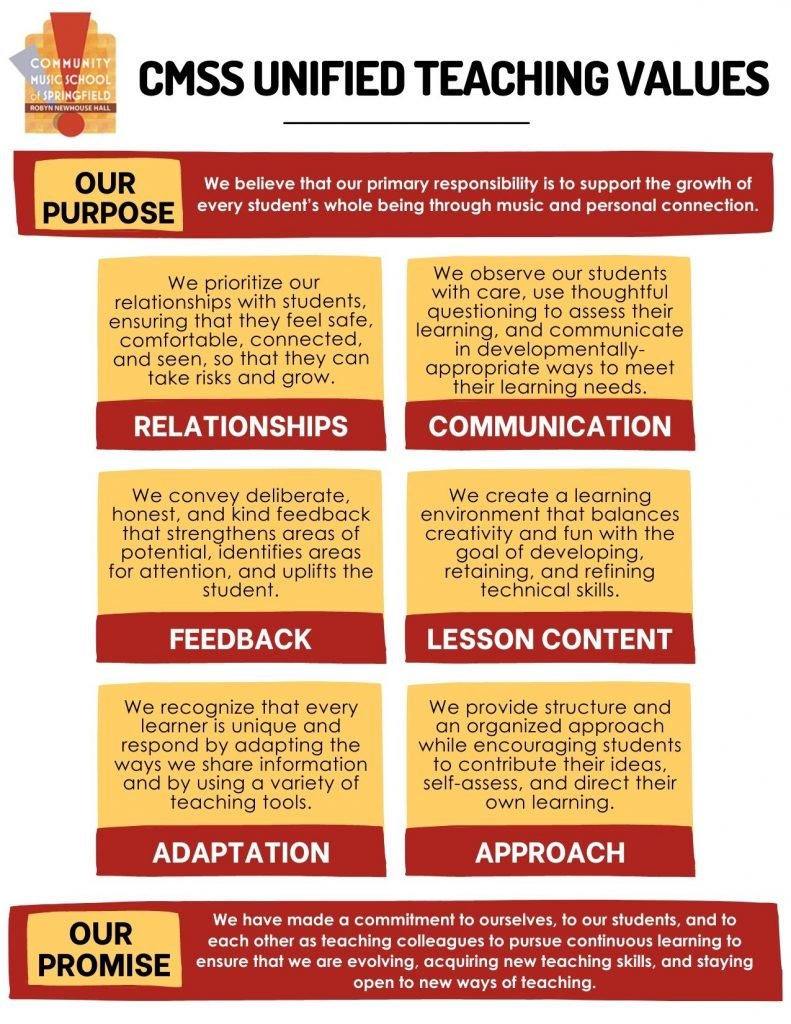 Action Steps and Outcomes
In the process of determining "what to do" with this living document of values, faculty identified the following outcomes:
Hang them up in our studios and around the school

Embed them into our interview process and job descriptions

Share with our community so they know what to expect from CMSS faculty

Use these as guiding pillars for faculty growth
As a "living document" these values will be reviewed by faculty in upcoming years and adjusted as we, as a school, adjust to meet the needs of our community.
The Effective Teaching Initiative Timeline
Spring 2021

To start, CMSS faculty, students, adult students, alumni, and CMSS parents & caregivers answered this prompt:

"You recently observed a colleague teach an in-person private lesson. After the lesson you said to yourself, 'Wow… they are a really effective teacher.' Name 5-8 elements you observed/experienced."

Lorna Jane Norris Consulting (LJN) collated and sorted the 86 collected statements into 8 categories:

Relationship

Communication

Approach

Lesson content

Developmental

Student-led learning

Feedback

Developing the whole student

Fall 2021

After thoughtful discussion with CMSS faculty, LJN sorted and collated the 86 statements down to 22 statements

Spring 2022

Faculty Focus group distilled the 22 statements into a useable format for their vision of building culture, faculty hiring, establishing and identifying what makes CMSS's teaching community unique

Summer 2022

Distilled 22 statements into

Unified Teaching Values

Fall 2022

Unified Teaching Values

approved by Faculty Focus Group and shared with all CMSS faculty members

Winter 2023

Unified Teaching Values

shared with CMSS families and friends online and in our school!