Rolling Admissions
Join anytime as space allows, tuition prorated. Sign up for a trial class if you're not sure!
An enriching music experience for the young child and their caregiver
Children can hear voices and music for months before they are born, and demonstrate musical sensitivity as young as six weeks after birth. Little Notes at CMSS is a joyful and interactive class for very young children and their caregivers that will nurture a love of music and help build foundational musical skills for a lifetime of musical connection with others. Class time will include rhymes, songs, movement and music from a variety of cultures, with a focus on teaching caregivers how to musically interact with their children at home. Supporting recordings will be provided to share with other family members. Our primary goal is to create a safe and affirming space for you and your child to explore and enjoy music together!
Little Notes is specialized for children from ages birth through three years. Caregivers of 4- and 5-year-olds should inquire about inclusion and accommodations.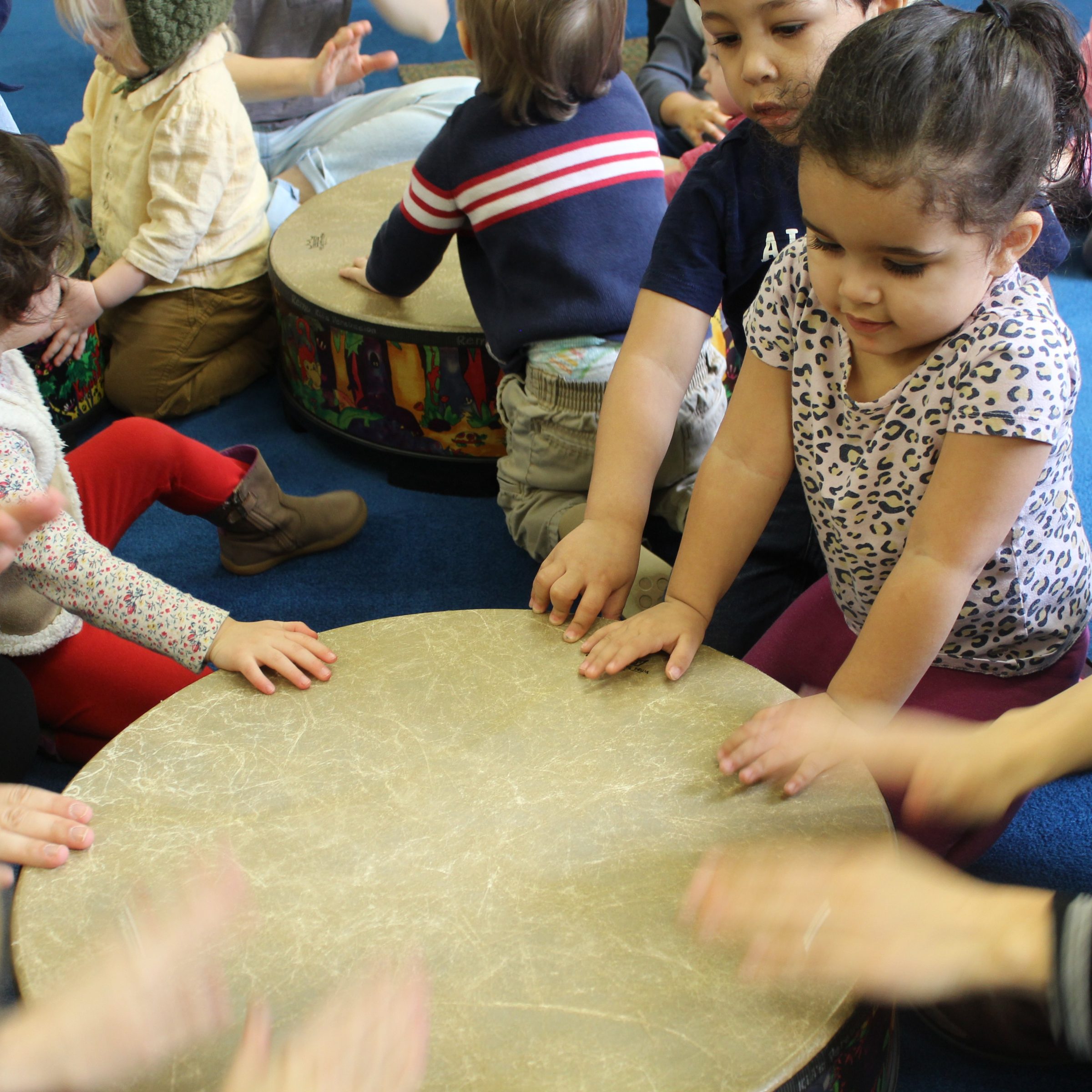 Early childhood is a precious time for both you and your little one. The Early Childhood Music Program at CMSS has been designed for the young child's developing mind and inquisitive spirit. Through exploration of song, movement, and various percussive and tonal instruments, your child will experience the following benefits of this experience (among many others):
Cognitive development – Music is an extraordinary tool in aiding the development of language and communication skills.
Fine and Gross motor skills – Hand and finger play, full body movement with use of parachutes and scarves, and ball-rolling are paired with appropriate songs to encourage coordination and dexterity. Basic Rhythmic concepts are used to guide children through new physical experiences.
Social Empowerment – Whether your child is a bit shy or the "life of the party", he/she will have an opportunity to shine and find ease with both peers and grown-ups through the fun and freedom of exploring music in a community-oriented environment.
Emotional Empowerment – No need to wait until adulthood to learn the therapeutic value of music. Children can learn, from day one, how music can be used to access and express emotion.
Because young children often look to their grown-ups for cues in a new environment, parents/caregivers are encouraged to fully participate in all activities. When your little one sees what fun you are having, they will follow your lead!