Citywide Dr. King Day Celebration
January 16 @ 11:00 am

-

1:00 pm

Free
Re-watch the celebration livestream:
Springfield's annual citywide Dr. King Day Celebration is hosted by Martin Luther King Jr Family Services, Community Music School of Springfield, Inclusive Strategies LLC, Springfield College and Focus Springfield, Legacy Sounds, Springfield Cultural Partnership, Focus Springfield, Urban League of Springfield, and Springfield Public Schools. The celebration will be held at the MassMutual Center, and livestreamed on our homepage. A opens in a new windowCommunity Artist Expo and Wellness Fairopens PDF file will be held prior to the event, starting at 9:30am.
Check out our opens in a new windowfeature in Af-Am Point of View!
This year's theme is Chasing the Dream, Arriving Together, and Standing in the Light, and will engage hundreds of youth, community leaders, and artists with spoken word, dance, and music to reflect on the enduring legacy of Dr. King and the continued struggle for social justice in communities across the country. Performances include the Springfield CommUnity Chorale led by Vanessa Ford; an orchestral performance by the MLK Day Festival Orchestra, led by Marty Knieriem; CMSS Sonido Musica students performing original compositions; and a opens in a new windowCommunity Artist Expoopens PDF file led by the Springfield Cultural Partnership. Local artist Sheldon Smith will unveil a 2023 artistic expression of Rev Dr. Martin Luther King Jr.
Event Program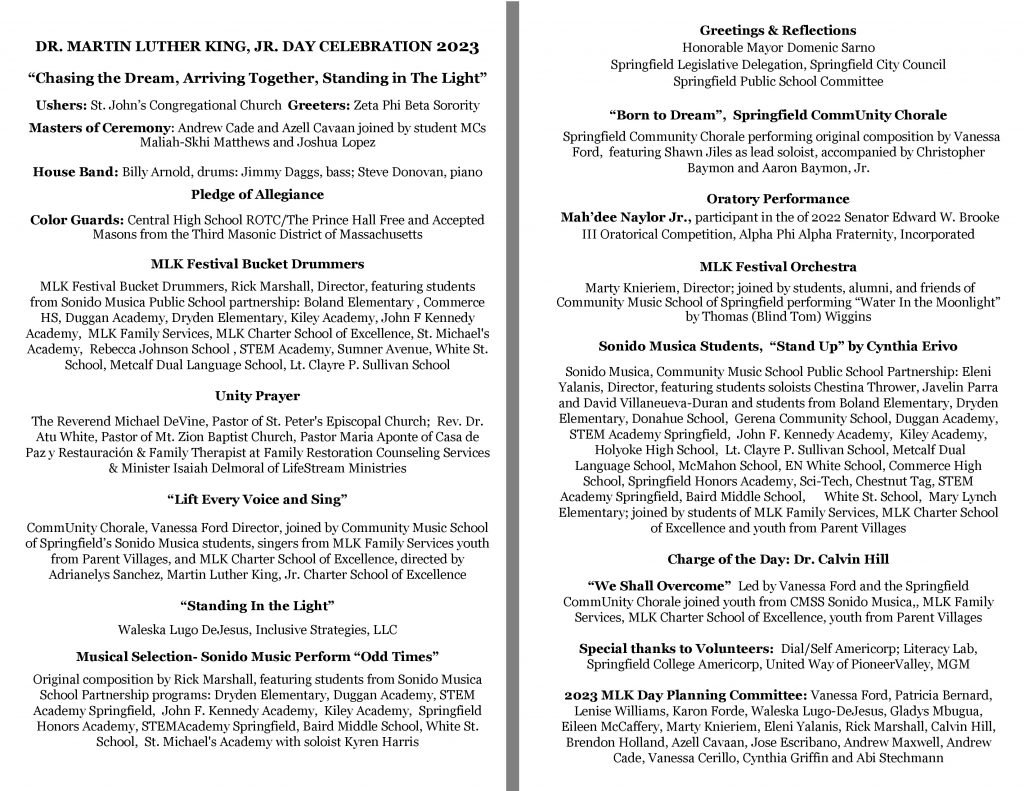 opens PDF file
The Springfield MLK Day Celebration is one of the largest celebrations of the life and legacy of Dr. Martin Luther King held annually across the Commonwealth.
ART EXPO & PRE-SHOW MUSIC: Thank you to the artists and community health providers who joined us for the Art Expo before the program. Pre-show music provided by N3O, featuring students of Springfield College, and Sonido Musica Young Composers and Producers program, directed by Justin Esiason of Community Music School, original student compositions of students from John F. Kennedy Academy, Commerce High School, and STEM Academy.
MLK DAY HOUSE BAND featuring Community Music School of Springfield founding faculty member Billy Arnold, drums, Jimmy Daggs, bass, and Steve Donovan, piano.
FOCUS SPRINGFIELD: Live Streaming of today's Dr. King Day Celebration was made possible by FOCUS Springfield.
COLOR GUARDS: Central High School's Air Force Junior Reserve Officer Training Corps program (AFJROTC) provides students an opportunity to become confident and responsible leaders and citizens. The award-winning ROTC program has grown and touched the lives of thousands of America's students from the mid-1960s until the present day and beyond. The instructors are among the finest veterans of the Air Force, who help form tomorrow's nation of proud and patriotic cadets and leaders — one student at a time.
Accepted Masons from the Third Masonic District of Massachusetts

MLK DAY FESTIVAL BUCKET DRUMMERS
Each year children across Springfield and Holyoke join Community Music School of Springfield to be part of the MLK Festival Bucket Drummers, Rick Marshall, Director. This year's drummers are students from Sonido Musica Public School partnership: Boland Elementary , Commerce HS, Duggan Academy, Dryden Elementary, Kiley Academy, John F Kennedy Academy, MLK Family Services, MLK Charter School of Excellence, St. Michael's Academy, Rebecca Johnson School , STEM Academy, Sumner Avenue, White St. School, Metcalf Dual Language School, Lt. Clayre P. Sullivan School
UNITY PRAYER LED BY OUR BLESSED CLERGY:
1st – The Reverend Michael DeVine, Pastor of St. Peter's Episcopal Church
2nd – Rev. Dr. Atu White, Pastor of Mt. Zion Baptist Church
3rd – Pastor Maria Aponte of Casa de Paz y Restauración & Family Therapist at Family Restoration Counseling Services & Minister Isaiah Delmoral of LifeStream Ministries
CommUNITY Chorale —LIFT EVERY VOICE AND SING James Weldon Johnson, a school principal, wrote these words as a poem for a program celebrating the birthday of President Abraham Lincoln with Booker T. Washington as an honored guest. We welcome the Springfield CommUnity Chorale & Vanessa Ford who will lead us all in singing joined by MLK Festival Orchestra conducted by Marty Knieriem, students of Sonido Musica, MLK Family Services, and MLK Charter School of Excellence Chorus and their director, Adrianelys Sanchez.
WALESKA LUGO-DEJESUS: "Standing in the Light"
Waleska Lugo-DeJesús is the CEO of Inclusive Strategies, she is a nationally certified Diversity, Equity, Inclusion & Belonging consultant, and facilitator dedicated to creating meaningful social change. Her approach is human-centered and focuses on racial healing to address systemic racism for equitable environments, and communities. She serves as Commissioner and Vice-President to the Springfield Art & Culture Commission, is a board member and Vice-President of Community Music School of Springfield, serves on the United Way of Pioneer Valley/Women's Leadership Council, Waleska is a Founding Board member of Massachusetts Women of Color Coalition and has been a partner of the MLK Day Celebration for six years.
COMMUNITY MUSIC SCHOOL SONIDO MUSICA BAND & STRING PROGRAM performing 'Odd Times' by Springfield's Rick Marshall. Sonido is a weekly in-school partnership across over 30 Springfield and Holyoke schools. Sonido Musica partnership is directed by Eleni Yalanis, and is supported by the Mass Cultural Council Stars Grant, and has won a number of prestigious awards including National Endowment for the Arts. Sonido Musica invites elementary, middle and high school students in the Springfield and Holyoke Public Schools to select violin, cello or band instruments and receive weekly group instruction during the school day in support of their school music program. This year over 1,000 students will participate in Sonido Musica. For many of the children today, this is their first public presentation of their newly acquired musical skills. They will be accompanied by the MLK Festival Orchestra under the direction of Marty Knieriem.
THE HONORABLE MAYOR SARNO, SPRINGFIELD LEGISLATIVE DELEGATION, SPRINGFIELD CITY COUNCIL, AND SPRINGFIELD SCHOOL COMMITTEE
SPRINGFIELD COMMUNITY CHORALE: Under the direction of Springfield native and community treasure, Vanessa Ford, this multi-generational Chorale is composed of ministry and community members, family & friends from across Western MA and Connecticut. Vanessa Ford, renowned vocalists and voice faculty at the Community Music School of Springfield, and program director of Trust Transfer Project, is so proud to bring together these amazing voices in unity to share her original piece written for this day featuring Shawn Jiles as lead soloist, accompanied by Christopher Baymon and Aaron Baymon, Jr. May you find strength and encouragement as we move forward in hope together, presenting… "Born To Dream"
ORATORICAL SPEAKER: Mah'dee Naylor Jr. is a freshman at Putnam Vocational High School. He plays soccer, football, basketball, and baseball and has been an athlete for 9 years. He lives in Springfield with his Parents and 3 sisters. Mah'dee previously served as the Student Council President in middle school, a student ambassador, and was accepted into a scholarship program in 3rd grade. He plays the piano and saxophone. Mah'dee was in the Top 3 of the Competitors of the 2022 Edward W. Brooke III Oratorical Contest sponsored by Alpha Phi Alpha Fraternity, Inc., Theta Iota Lambda Chapter & the Lee B. Revels Scholarship & Mentoring Foundation. His future goals are to join the U.S. Air Force and become a pilot. Please welcome Mah'dee Naylor Jr.
MLK FESTIVAL ORCHESTRA: String City Orchestra is an advanced chamber orchestra at Community Music School under the direction of Marty Knieriem and is proud to represent the MLK Day Festival Orchestra for the tenth year. Joining the Festival Orchestra today are students of Community Music School as well as a dedicated group of CMSS alumni and friends from Springfield Symphony and Youth Orchestra, Hartford Symphony, and Amherst, Smith, and Mount Holyoke Colleges. They will be performing a beautiful piece called 'Water in the Moonlight' by Thomas (Blind Tom) Wiggins.
SONIDO MUSICA PERFORMS "STAND UP" by Cynthia Erivo: Sonido Musica, Community Music School/Springfied Public Schools Music Partnership, Eleni Yalanis, Director, featuring student soloist Chestina Thrower, Bridge Leader along with students from Boland Elementary, Dryden Elementary, Donahue School, Gerena Community School, Duggan Academy, STEM Academy Springfield, John F. Kennedy Academy, Kiley Academy, Holyoke High School, Lt. Clayre P. Sullivan School, Metcalf Dual Language School, McMahon School, EN White School, Commerce High School, Springfield Honors Academy, Sci-Tech, Chestnut Tag, STEM Academy Springfield, Baird Middle School, White St. School, Mary Lynch Elementary.
CHARGE OF THE DAY: Dr. Calvin Hill, Dr. Hill is Springfield College Vice President for Inclusion and Community Engagement. responsible for promoting diversity and inclusion among all constituents of the College, and connecting and promoting the College's resources to area communities. Dr. Hill is a consultant on diversity issues and presents nationally on issues of inclusion, where he focuses primarily on providing equal access to educational opportunities for underrepresented populations.
"WE SHALL OVERCOME" Led by Vanessa Ford and the Springfield CommUnity Chorale joined students from CMSS Sonido Musica,, MLK Family Services, MLK Charter School of Excellence
____________________________________________________________
Special thanks to Dr. King Day Celebration sponsors:
Human Service Providers, New England Public Media, Springfield Cultural Council, Mass Cultural Council, MGM/MassMutual Center, STCC, Westfield State University, Springfield College, Basketball Hall of Fame, Community Foundation of Western Mass, Baystate Health, Westfield Bank, Mercy Medical Center, Hilltown Families, Black Springfield Covid-19 Coalition, Mass Coalition for Independent Work
With thanks to the many MLK Day Volunteers: Ushers & Greeters from St. John's Congregational Church, Dial/Self Americorp; Literacy Lab, Springfield College Americorp, United Way of Pioneer Valley, and MGM and our Sign Language Interpreters: Source Interpreting
Presenting Organizations:
Martin Luther King Jr. Family Services Inc., nurtures and empowers the aspirations of individuals, families and youth to achieve new realities of peace, social and economic justice, self-determination, self-actualization and self- sufficiency.
Community Music School of Springfield brings together people of different ages, abilities, cultural backgrounds and economic circumstances to make music in an environment that respects diversity and encourages creativity.
Springfield College was founded in 1885 and is known world wide as the birthplace of basketball, and for the guiding principles of its humanics philosophy: Educating students in spirit, mind, and body for leadership in service to others.
Inclusive Strategies LLC is dedicated to creating meaningful social change, with a human-centered, racial healing approach; addressing systemic racism for equitable environments, and communities.
Focus Springfield's mission is to improve the quality of life for Springfield residents through stimulating economic development, community building, education, training, and promoting the benefits of living, learning, and working in the city.
Springfield Cultural Partnership connects artists, institutions and audiences to create and celebrate creativity in Springfield. The SCP is a member based organization with a diverse mix of individuals and organizations, involved at a range of member levels, and all committed to supporting the vitality of our local cultural economy.
Legacy Sounds pursues creativity and seeks opportunities to bring creative vision to life. Having a deep love for music, performing arts, and a great appreciation for all forms of visual arts, LegacySounds LLC, finds its passion in elevating a client's story, moment, or vision to the next level.
Urban League of Springfield serves the African American community in Greater Springfield by advocating for and providing model services that enhance the academic and social development of young people and families, promoting economic self-sufficiency, and fostering racial inclusion and social justice.
Springfield Public Schools are world class learning environments that produce 21st century leaders. The school district attracts knowledgeable, highly effective and diverse teachers and principals who want to work in a high performing district. Parents and community members are moving into Springfield for the privilege of sending their students to schools that are thriving in a Culture of Equity and Proficiency.
MLK Charter School of Excellence is a structured academic environment, and positive character development that ensures that every student in kindergarten through grade 5 is equipped to think critically, communicate clearly, and are empowered with a strong ethical foundation to be set on the path for success in college, career, and life.
New England Public Media has a deep commitment to independent local journalism, trusted educational content, inspired cultural offerings, and civic engagement. NEPM endeavors to share new voices and inspire new conversations, providing audiences with a broad array of local and national programs across all media.
With special thanks to our wonderful MCs who will be leading us through the event:
Azell Cavaan proudly and enthusiastically serves as Chief Communications Officer for Springfield Public Schools. She is an award-winning journalist who earned her bachelor's and master's degree in journalism at Northeastern University in Boston and Northwestern University in Chicago, respectively. She is the published author of thousands of articles that have appeared in newspapers and magazines both nationally and internationally. She serves as founder and president of the John H. Murphy Memorial Scholarship, Inc., and on the Board of Directors for the Massachusetts Women of Color Coalition. She is a member of the Public Health Institute of Western Massachusetts' Youth Mental Health Communications Committee, the National Association of Black Journalists and National Schools Public Relations Associations. A certified yoga instructor, she is owner and operator of So Soulful Yoga and Wellness.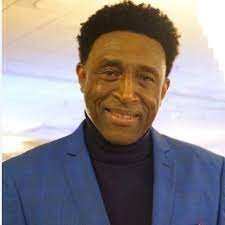 Andrew Cade, Vice President of the Urban League of Springfield. He has been a prominent individual in the City of Springfield since he arrived from Alabama more than forty years ago to attend AIC. He is the president of the Springfield Cultural Council, part of a network of 329 Local Cultural Councils, funded by the Massachusetts Cultural Council, serving all 351 cities and towns in the Commonwealth. The LCC Program is the largest grassroots cultural funding network in the nation, supporting thousands of community-based projects in the arts, sciences, and humanities each year.