This summer, as part of our Cultural Heritage Program, CMSS provided 12 paid internships to help young people in Springfield develop skills will help them succeed in their careers. This program developed out of an overwhelming demand from our current and former students and their families for opportunities to be part of CMSS' work, as well as an identified need in our community for career building for young people that develop our future workforce and contribute to our local economy.
As an organization dedicated to lifting up our community and shining a light on its assets, CMSS works hard to foster an organizational culture that supports personal and professional growth and fulfillment. In keeping with these values, interns are paid a living wage, treated with respect, and provided with individualized education and training in the areas that interest them.
About our 2023 Summer Interns
Ada Colon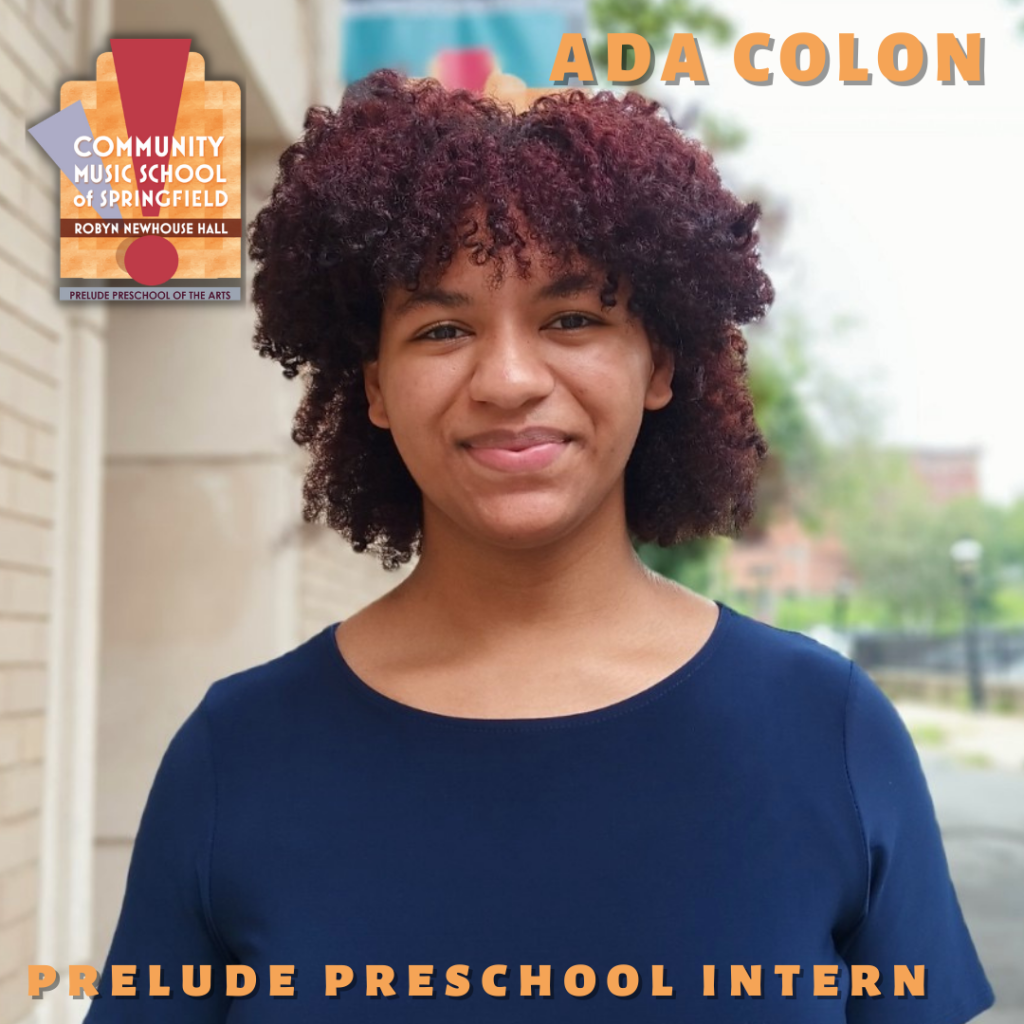 My name is Ada, I'm currently 16 years old and I work as an intern at The Community Music School's Prelude Preschool of the arts. I'm happy to be a part of the community because when I was younger I attended the music school. I was born and raised in Springfield. This place feels like home to me, and to be a part of a community inside my 'home' makes me feel so happy. I'm dual enrolled at HCC where I am studying psychology. I love learning about psychology in general but right now I am focusing on child psych. My interests always have included the arts and child care, and being able to do both with CMSS really makes a difference in my life and I hope to be making a difference in these children's lives as well. I hope I can encourage more children (especially children of color) to be more involved with the arts. I hope myself and the Community Music School can help those future stars shine.
Allison Clifford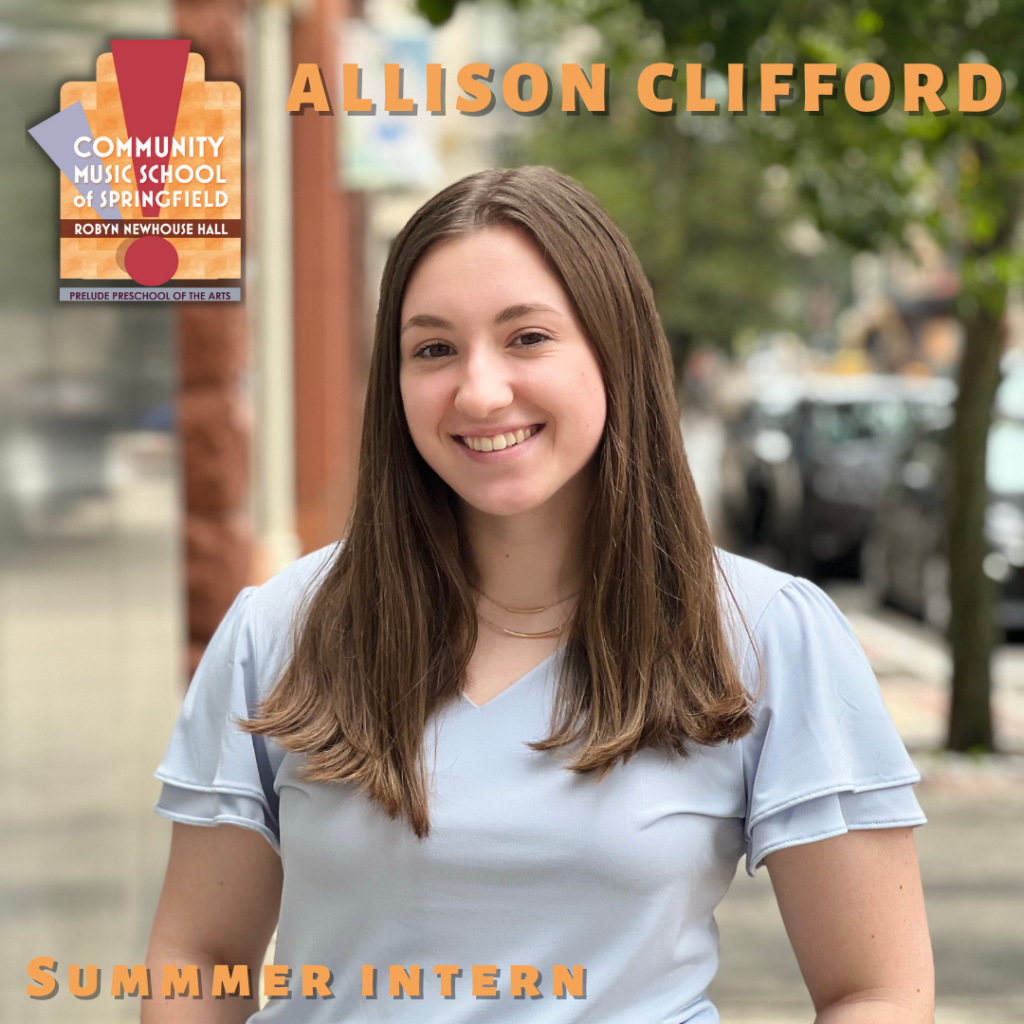 My name is Allison Clifford and I am from Wilbraham, MA. I currently attend University of Cincinnati College-Conservatory of Music, and I am a double major in Music Education and Flute Performance. I hope to continue to teach instrumental music after graduating and also plan to attend further education. This summer I have been working at CMSS as a project intern, and well as the Summer Youth Coordinator. This has allowed me to work with all ages of students in the summer choir and Sonido band sessions. At CMSS, I hope to gain more experience working with all different types of students and levels of musicianship. One thing I am extremely passionate about is inclusivity in music education, and allowing students the opportunity to play at high levels and receive quality education no matter their backgrounds. Working at CMSS has been a wonderful opportunity for me to understand community music engagement and teaching students from all different areas and levels, and to practice what life may look like for me in the classroom. My favorite part so far has been to see all the students growth-musically and personal- throughout the summer sessions. I'm so grateful to have the opportunity to learn so much from this amazing internship!
Ana Pagan
My name is Ana Pagan, I am 18 years old and recently graduated from John J. Duggan Academy. I was born and raised in Springfield, and will be attending the University of Hartford in the fall. I am going into the healthcare field but love teaching and working with kids, which led me to Prelude at CMSS. Working here this summer gives me the opportunity to interact with little ones and gain that experience; no matter what my future career is, it will help to have those people skills. I also value the community aspect of being in the environment of CMSS and having a learning experience that feels like a home with a family.
Annie Lu
My name is Annie Lu and I am 17 years old. I am currently a rising senior in high school. At high school, I am focusing on science and math, and I am going to study biology and physics in my senior year. I volunteer at Key Club and at the local library because I strive to help others in a direct way. I am also a board member of our school's Pottery Club, where we have an open studio for making pottery and 3D art crafts. I'm also a teacher's assistant for our town's summer programs for kids, and my role is somewhat like a summer camp counselor. I am bilingual and am currently studying French, Japanese and Spanish. My plans are to try to survive senior year and then go on to college, hopefully majoring in biology at a school on the west coast. I eventually want to go on to become an orthodontist, so I'll have to figure out how to get a doctorate's degree. I hope to be involved in advocacy for the environment and sustainability. In addition, I want to help at the Red Cross and a local animal shelter. As a Summer Project Intern, I hope to complete numerous valuable projects that will make a positive impact at CMSS. I hope to learn secretarial work and gain experience with working in an office environment. I believe that my internship experience in an office setting will give me experience for future jobs or projects in college, where I must work at a personal pace while ensuring the quality and meaning of my work. In addition, since careers in dentistry often require working in an office setting, I believe that my future career will be a continuation of my present internship.
Ashley Judkins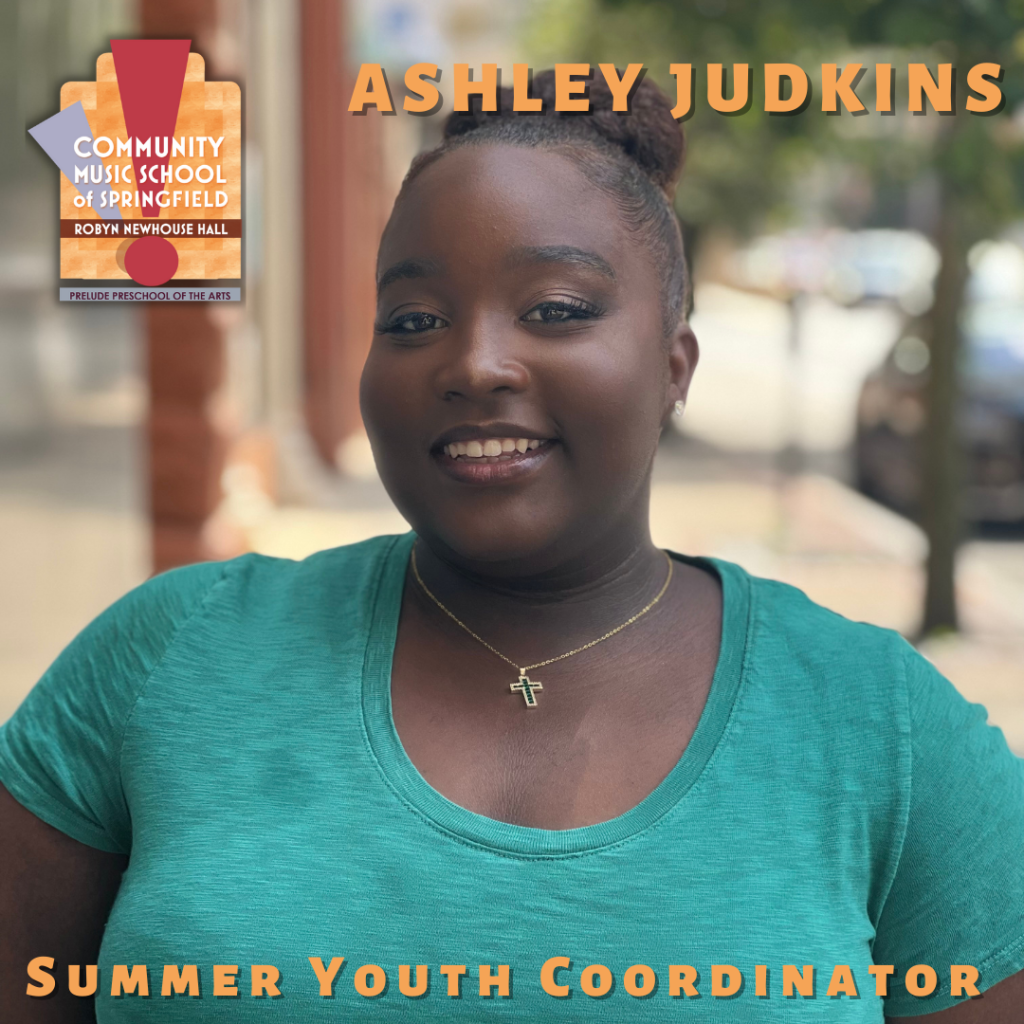 My name is Ashley Judkins and I am a sophomore at Westfield State University as a music education major. I am 19 years old, and I was born and raised in Springfield, MA.
I am studying to become a secondary education music teacher. I am very interested in all aspects of music. I primarily play trumpet, but I also love to sing. I've spent the majority of my life in spaces where I have been able to grow and expand my musical abilities. I've recently become interested in musical theatre and Broadway productions. I also love reading mysteries and love stories in my free time.
I would like to eventually achieve a master's degree in music education. I want to impact whichever schools that I work at to be better and bigger than they ever were. Long term, I want to teach, but I would also like to coach a dance/step team at some point in my career.
I want to use my experience here at CMSS as an opportunity to give back to the community. I want to be known as someone who is helpful and very involved, even in parts of the community that I'm not directly connected to.
I will be able to teach others successfully if I take in my opportunities at CMSS and learn as much as possible. I need to soak up all of the skills and examples from the people around me so I can be a vessel of great knowledge and resources in the future.
Casey Ortiz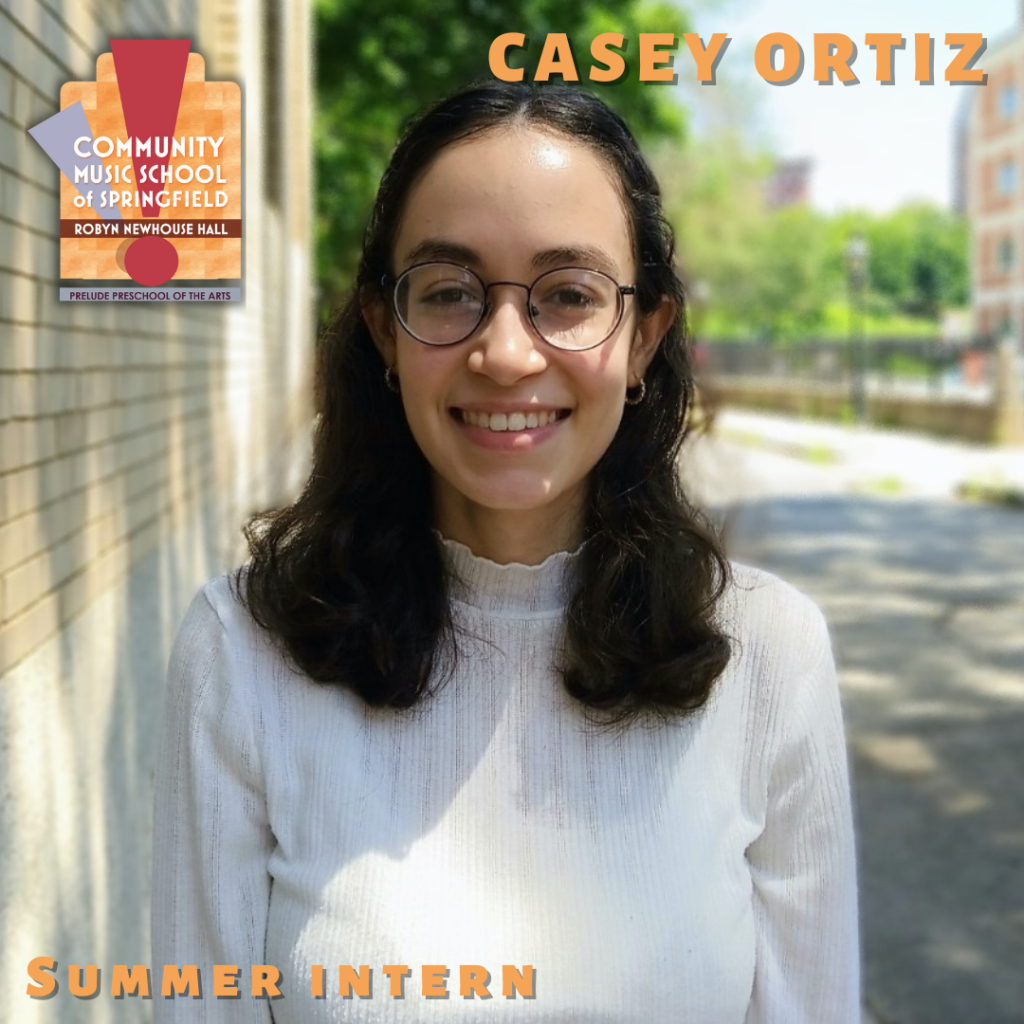 My name is Casey, I grew up here in Springfield, Mass. I am a 21 year old student completing a bachelor's degree in Songwriting at the Berklee College of Music, Boston campus and a minor in Recording and Production for Musicians. This year I will be completing my last year as a senior. My interests in music are songwriting, producing and performance. I am a vocalist and play a bit of piano, guitar and marimba. I have performed and still am performing with The Creation latin Big band led and directed by Joe Velez, who used to be my piano instructor here at the CMSS. My plans for the future would be to continue pursuing my songwriting career; writing and releasing my songs as well as writing songs for others. An even further dream would be to either become my own artist or write/produce music for music companies either on the Western side or for Korean Music Entertainment companies and famous individual artists. My hopes for this summer at CMSS is to retain new knowledge and experience with the projects and tasks I have been working on and use that to my own advantage. It will allow me to grow as an aspiring musician and open new opportunities for me in the near future. Another goal is networking, being in the music and in the entertainment, building as many connections here with CMSS interns and faculty will be a great accomplishment. Here at the CMSS, I have been learning the ways of marketing. I can use the marketing knowledge to market myself and my own craft as an aspiring artist. Having this experience will help my overall work experience on my resume and that can open more opportunities for future internships. The Video Project has been teaching me skills I can use for the entertainment business as well.
Jennifer Cruz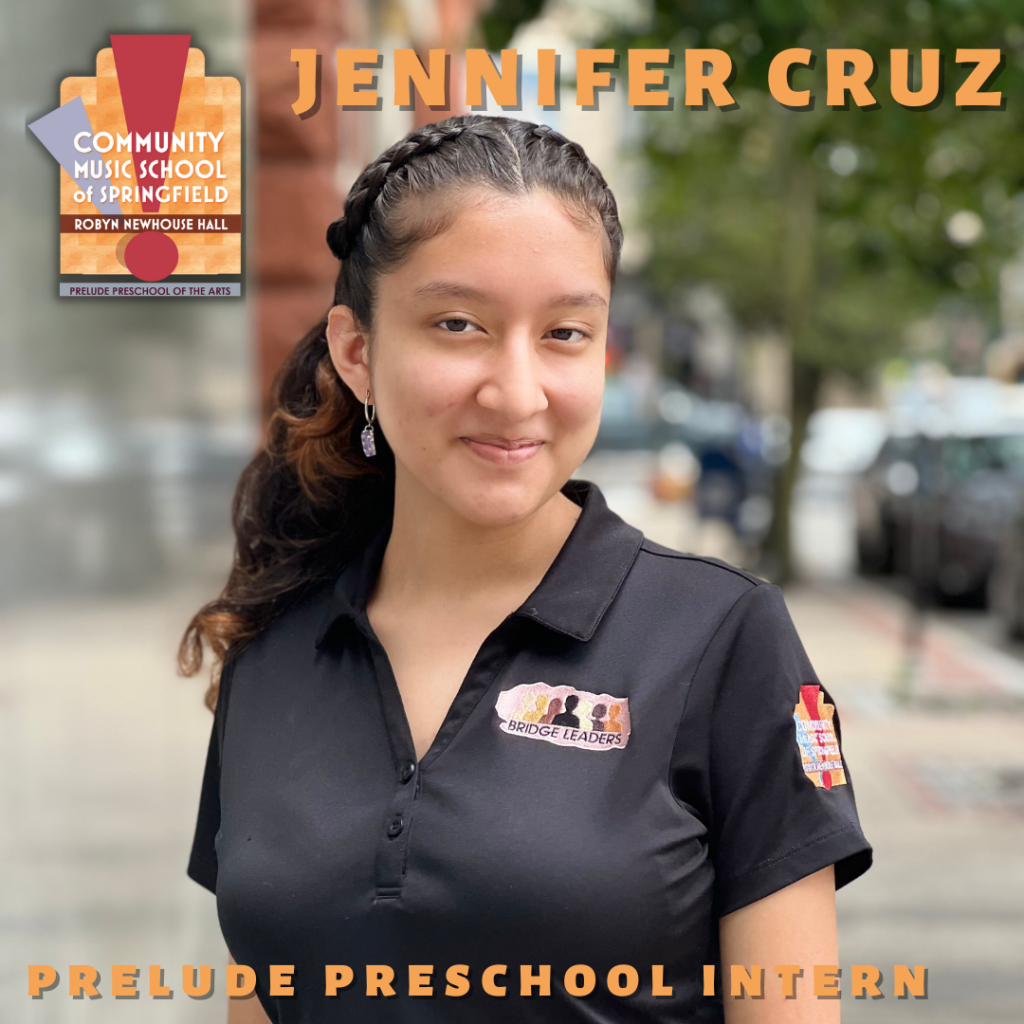 Hello everyone, I'm Jennifer Cruz. You might recognize me as a friendly face at the front desk. During the past year I've enjoyed working with families in CMSS's enrollment team. My passion for working with kids and my love for music have led me to the prelude preschool internship.
I'm currently studying music at HCC with the intent of becoming a music educator. I have always been drawn to the idea of making a positive impact on young minds. This internship presents an incredible opportunity for me to explore and discover working with kids.
As I embark on this journey, I'm eager to learn from the wonderful people in this community. The warmth and support I've received here during my own educational path have inspired me to contribute to the community that has nurtured and taught me so much.
I look forward to creating a nurturing environment where every child can thrive, explore, and experience the joy of music education.
Jenny Lu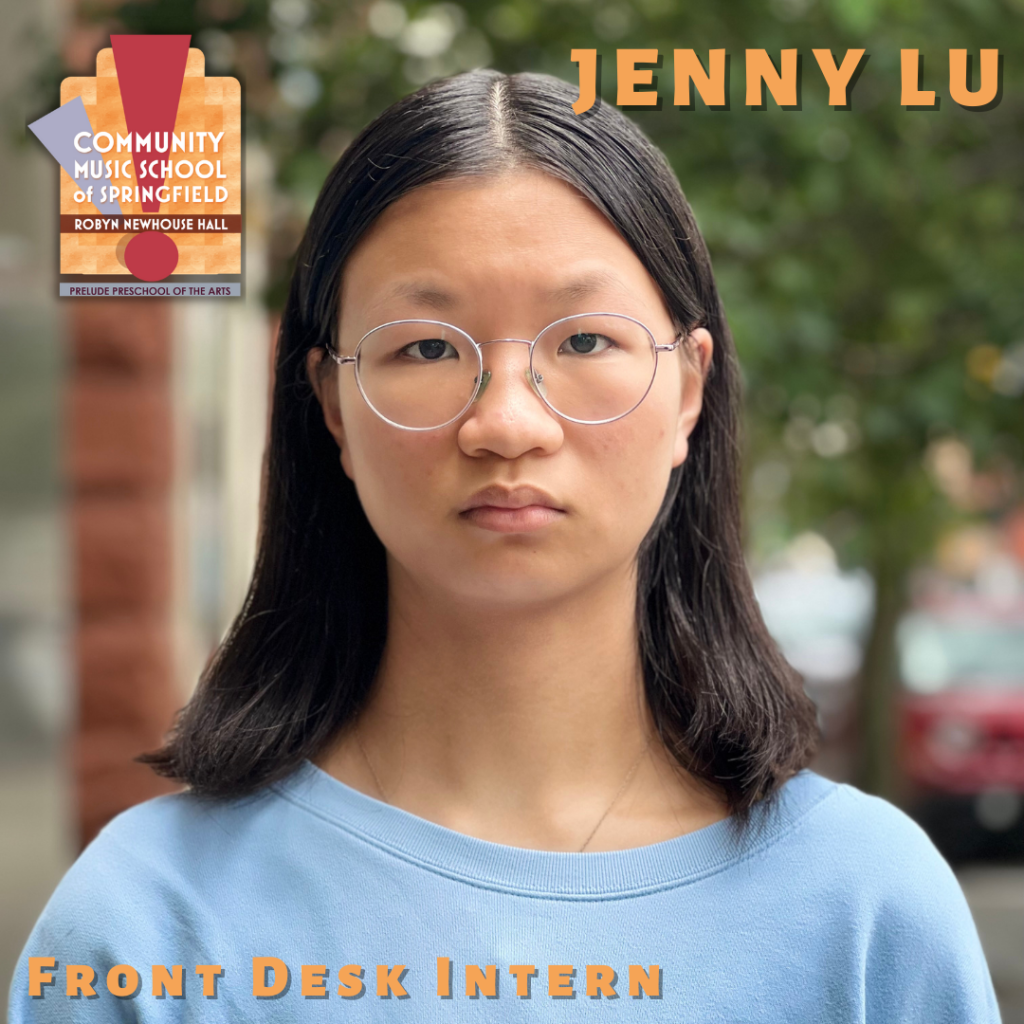 My name is Jenny Lu, and I'm 15 years old and I live in a town near Springfield. In school I'm taking an art elective because I enjoy ceramics and sketching. I like listening to music and I play a Chinese instrument called the Guzheng. In the future I will most likely go into a medical field after college. As I get older I also plan on doing art or music in my free time, in addition to work. This summer at CMSS, I want to develop better social skills and learn about how people work together in a professional workspace. I also want to explore different types of instruments and music so that I can play different instruments when I'm older.
Joey Calhoun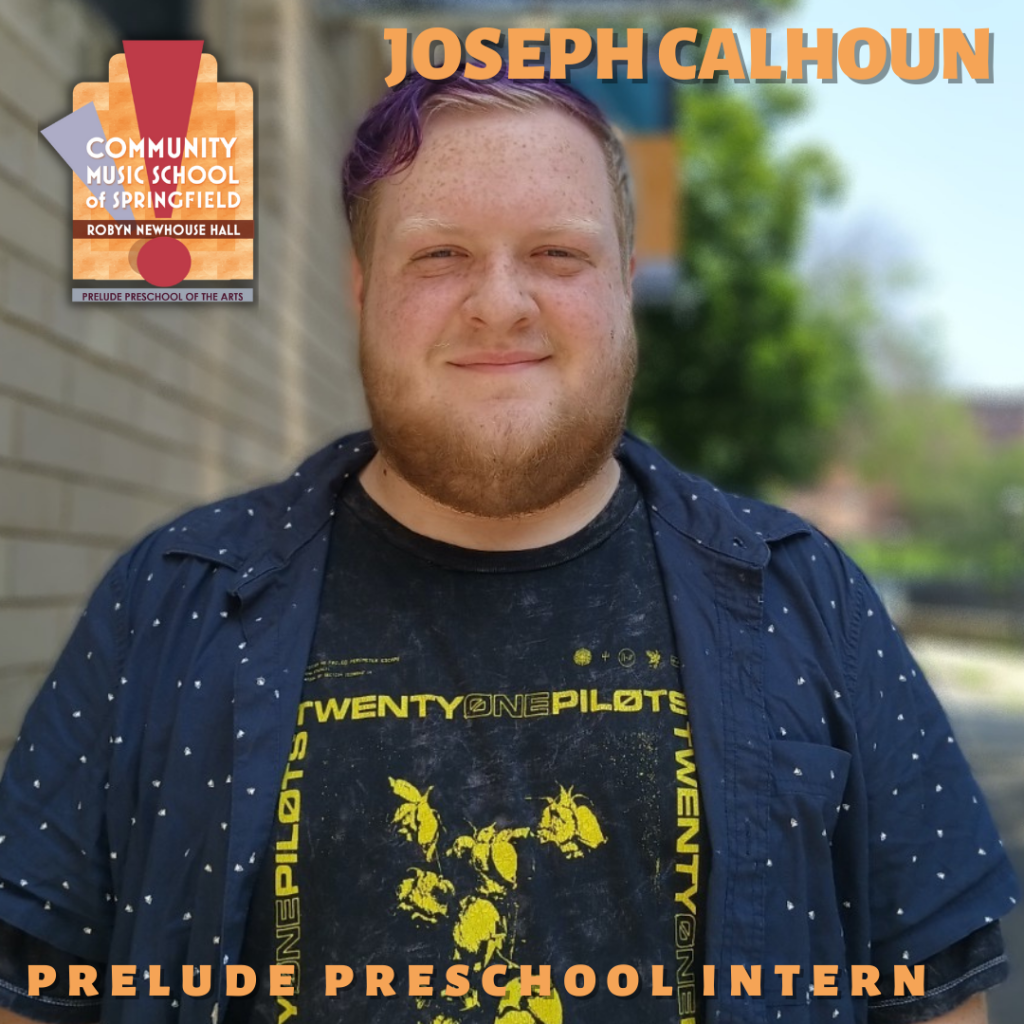 Hi my name is Joey Calhoun, I'm 18 and I study music education at Westfield State. My main point of interest is definitely directed towards teaching and helping others in my community with the help of music. Right now I am the President of the new Westfield Pep Band. My hopes for the next few years is to work my way up as a teacher and in the music industry as a musician. My goal in life is to help others and use music to do so. As for CMSS I want to further my career, teach music, help my community and grow as a leader and musician. I think they connect in the same meaning, to grow in life. I also would like to grow the field of music therapy in the community; I find it important.
Kayden Behan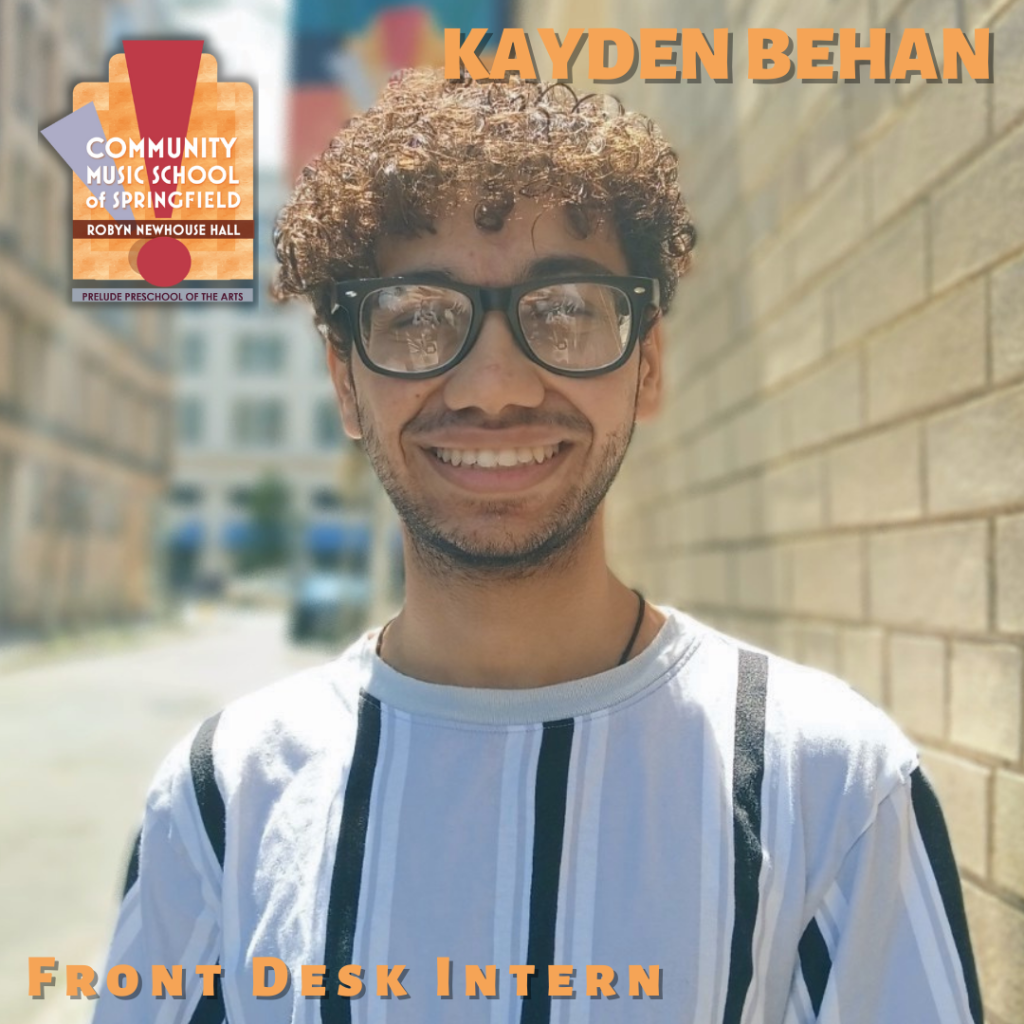 My name is Kayden Behan and I'm going to be a junior this fall at Berklee College of Music. I'm currently studying Jazz Composition with a minor in Conducting. I play and explore a wide variety of music genres such as Jazz, Theater, Balkan, and Middle Eastern music styles. After college I'd really love to explore being a music director and conductor in New York. I'd also like to work on expanding my sound as an artist and writing global jazz fusion, mixing elements such as odd meters.
At CMSS, I'm currently working as a front desk intern and accompanist. I'm so glad I've been given opportunities to work as a pianist accompanying various performances for the school. Working as an intern, I've been able to learn so much from my co-workers in management and communication skills which I believe are very important. Community Music School has taught me alot about interacting with various demographics in varying music and business settings. I love being able to grow my interpersonal skills in such a welcoming environment.
Kiana Gonzalez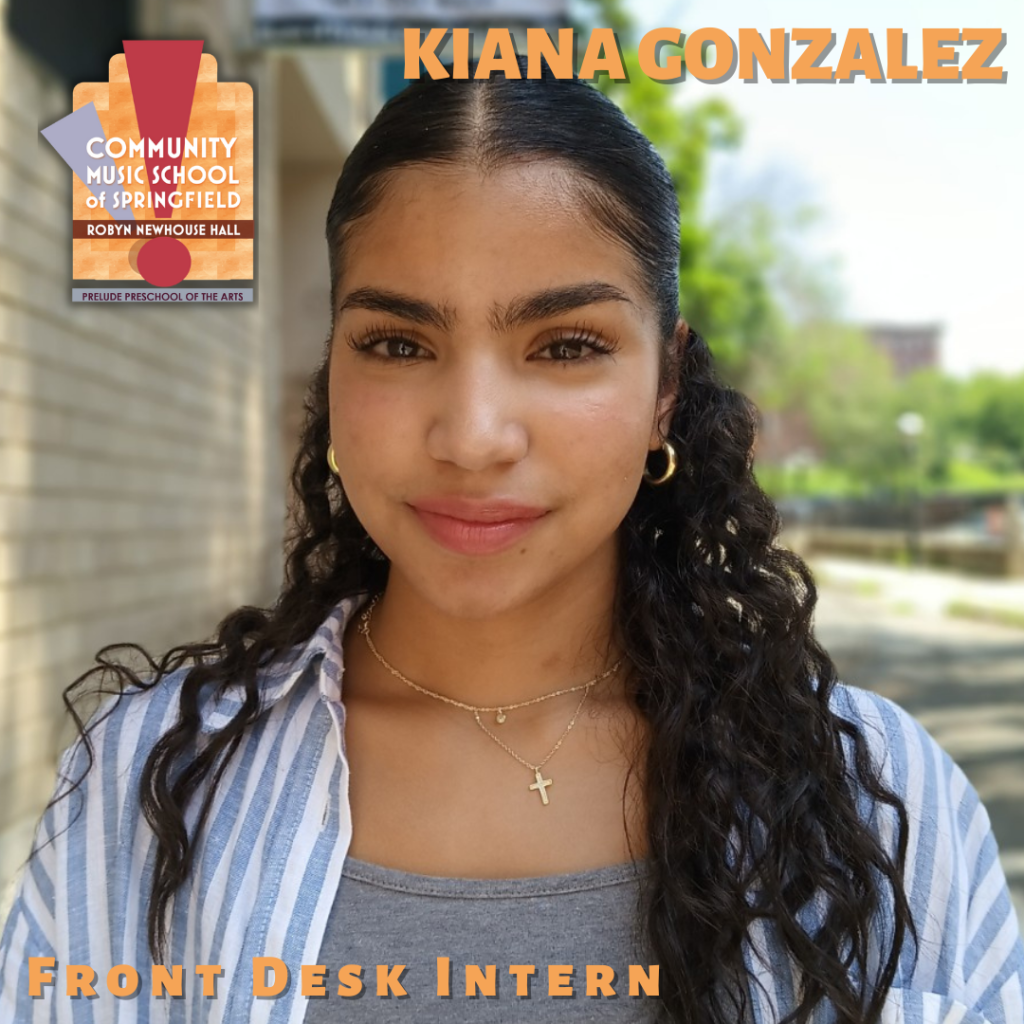 My name is Kiana Gonzalez. Born and raised in the Springfield area, I am currently a rising sophomore at Bowdoin College in Brunswick, Maine, I graduated last year from Minnechaug Regional High School.
I am currently studying neuroscience at Bowdoin. The neuroscience program at my school is excellent, and allows me to be flexible with the direction I choose to take in my studies. I am particularly interested in the intersection between neuroscience studies and application to real life behavior. I hope to one day apply the knowledge I gain to help create healthier communities here in Springfield.
My time so far at CMSS has been wonderful. I am super grateful to have a position that allows me to work with so many talented and gracious people. I feel supported by all the staff I have encountered. In addition, being at the front desk allows me to have a firsthand encounter with the "community" aspect of the music school. I hope to learn more about community outreach, as that is a large part of what drew me to CMSS.
Being able to give back to a community is something I value. I come from a family that benefited greatly from the community around them when they moved from Puerto Rico to Massachusetts, and I have seen firsthand what a difference it can make. That, combined with my parents' efforts have given me great opportunities for myself, and I hope to use those opportunities to give back to the places I find myself in.
Sarah Uyar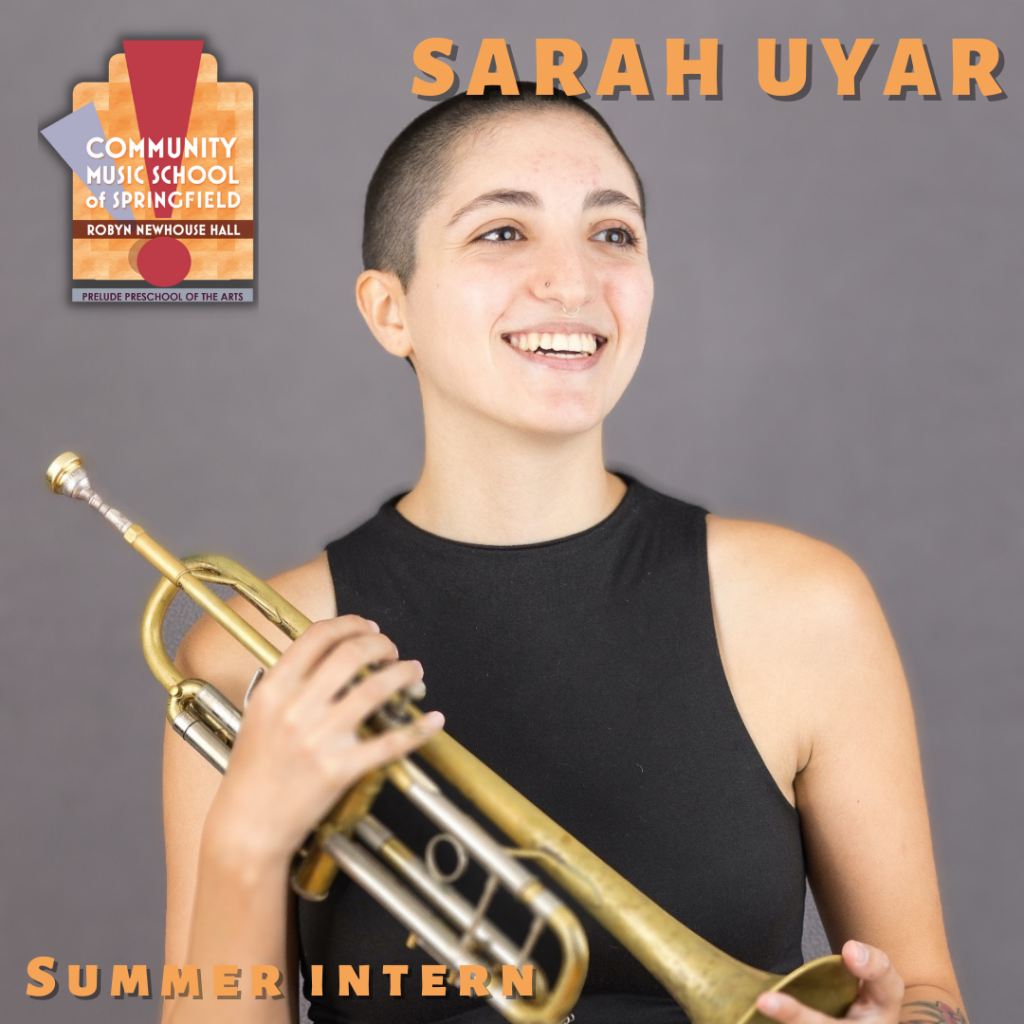 Sarah Uyar, 22, is a recent graduate of the Hartt School's Jackie McLean Institute of Jazz. She is a jazz trumpeter and composer based primarily in Hartford, Connecticut. In the near future Sarah would like to pursue her master's degree in jazz composition and arranging in New York
City whilst establishing herself as a performer. At CMSS she hopes to learn more about arts administration. She hopes to learn how to be an effective businesswoman in order to further her career as a performer.