Perform-a-thon 2021
June 10, 2021 @ 5:00 pm

-

7:30 pm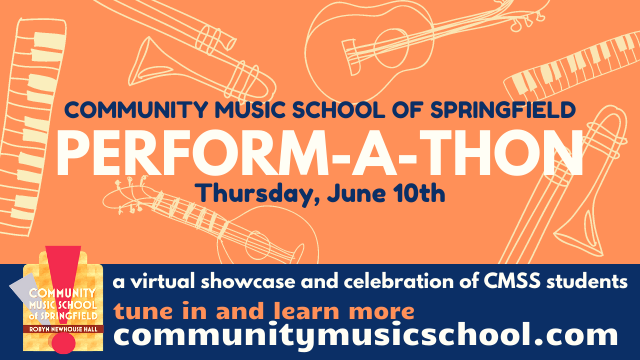 Community Music School of Springfield's 2nd annual virtual Perform-a-thon will feature performances by CMSS students of all instruments, ages, and levels of experience. The Perform-a-thon is an opportunity for our students to celebrate and showcase their hard work over the course of this unusual virtual school year.
Watch CMSS' 2021 Perform-a-thon!
Order of Performances
Intro music performed by CMG Jazz Ensemble; Steve Moser, Director
5pm – 6pm
Brooke Bowser
Chance Land
Angelica Shokov
Sophia Tomko
Dominic Bruce-Moore
LeTao Mao
Cecily & Owen Henshon
Ava Sirois
StillCan Band performing "Blue Janice"
Jordann Muthua
Leon Schulkin
Sophia Fortier
Aubreyella Cruz
Sophia Lam
Emma Landry
Ava Schachere
Kelly Heo
Cheryl Shecrallah
Minho Lee
Katherine Shevchek
Inna Baraban
Bobby R Williams
StringCity Orchestra and friends performing "Adoration"
Nicole Crosse
6pm – 7pm
Riley Frasier
Daniel Lam
Ellyson Narotsky
Cindy Craddock
Catherine Deroche
Thomas Fortier
Hilary Sohn
YWES performing "Tears of Our Father"
Victoria Gonzalez
Kiki Hwang
Catherine McKenna
Ethan Schulkin
Bryanna Brown
Kiana Gonzalez
StillCan Band performing "Panther Vibes"
Andrew Henshon
Monica Larioza
Jinye Zhao
Serenity Jackson
Owen Henshon
Anja Berke
Samaily Sanchez
Joey Channing
7pm – 7:30 pm
Emily Larioza on violin, accompanied by Monica Larioza on piano
Aza Skinner
Alina Danyuk
Graduating Senior Recognition- Mary Ellen Miller
Kayden Behan
Samuel Borowski
Yessica Wright
Zachary Marino
Cecily Henshon
Adeline Berke
Samuel Borowski
Grace Vengco
Outro music performed by Avdiy Izoita & students of Ed Mari
Community Music School of Springfield is a nonprofit organization dedicated to making music education accessible and inclusive for all. To support our financial aid and scholarship programs, please donate here.
If you have any questions, please email Rachel Rivard at [email protected]create new email.